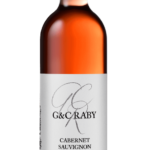 Rosé Cabernet Sauvignon
4,50€
75 cl
Terroir : Chalky Champagne type of the slopes of Segonzac
Main grape variety : 100% Cabernet Sauvignon
Colour : Light pink, peach, clear and brilliant
Nose : fruity and fresh: vine peach, pomegranate, white fruit
Palate : Well balanced, slightly acidulous, intense and powerful. Beautiful freshness. Very pleasant. Mineral at the finish.